Episode 33: Conor Bredin | Renaissance Nerd (Part 2)
Welcome to this week's dose of book recommendations, library love, and literary enthusiasm. Our guest is Conor Bredin. He's an American Irish author, podcaster, primary school teacher, and all around renaissance nerd. We started our conversation last week, so don't miss episode 32 for the first half of our chat. Today we swap a ton of book recommendations, from sci-fi short stories to dark twisty thrillers.
Author Conor Bredin - this week's guest on The Library Laura Podcast!


Conor's Website | The Longest Night book | Story of a Storyteller Podcast | Twitter | Instagram | Facebook
@ Library.Laura come find and follow me on Instagram!
Here's the Book List - all the books from today's episode on Bookshop.org
2020 Gift Guide - This is the blog post I did just for you, with a bunch of gift ideas that I've personally loved or have friends who do. Be sure to check out the Advent reading books, because Advent (can you believe it) starts on November 29th!!
(In this blog I do use affiliate links, which means I get compensated if you make a purchase through my links. thanks for your support!)
Books Conor Recommended To Laura
The Guns of Easter and
A Winter of Spies
by Gerard Whealan - Kids books about the Conway family, set during two major 20th century Irish historical events. Kids study these books in school and Conor thought I would enjoy them and learn a lot.
Trinity by Leon Uris - This is the book Conor's father had just finished reading right before Conor's birth. When Conor was (to their surprise) a boy, they chose to name him based on the main character in this book. An epic Irish historical fiction novel.
This is Going To Hurt
by Adam Kay - the diary of a OB/Gyn who is now a
comedian
. Conor couldn't stop laughing reading this. (Also excellent on
audio
!)
Bobiverse Saga
by Dennis Taylor - Bob dies and his brain is uploaded to the cloud and his
consciousness
is to be the
controlling AI in an interstellar probe looking for habitable planets. A
nd there are adventures in space to be had. Conor really enjoyed this series of
books on audio
as well.
Holding,
A Keeper, and Home Stretch by
Graham Norton: The Irish talk show host on the BBC has turned to novel-writing. Conor says that these are a lovely representation of modern small-town Ireland.
Thief by Malorie Blackman - Conor reads this book aloud to every class of primary students. He says it's an underrated and little known book, but it's full of plot twists and is a great adventure. When his classroom got cleaned out this spring in a rush thanks to lockdown, he lost his childhood copy of this book. After we talked on the podcast, he went looking for a copy of it on the internet and then I got an email from Conor saying "IT'S IN PRINT I ORDERED IT STRAIGHT AWAY!" This makes me so happy. The same author also wrote the Noughts & Crosses series.
His Dark Materials Series
by
Philip
Pullman - Excellent fantasy fiction. The series starts with The Golden Compass, which was also published under a different title (Northern Lights) originally in the UK.
Books Laura Recommended to Conor
The Long Call
by
Ann
Cleeves
(the first book in the new series Two Rivers) - This atmospheric mystery is set in North Devon. There's been a murder, and before detective Matthew can solve this first mystery, several more suspicious events crop up (an assault, two girls disappear...). He must solve all these mysteries before it's too late. I did NOT like the audio version of this book, but I think it is great in print.
The 7 1/2 Deaths of Evelyn Hardcastle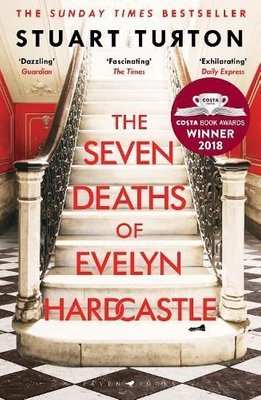 UK title/cover

US title / cover


by Stuart Turton - which is called the 7 Deaths of Evelyn Hardcastle in the UK version of this book. This is one of the darkest, twistiest books books I've read in a long time! A man wakes up in the woods with no idea who or where he is. He is told he must re-live the same events from inside several different people (in their bodies and their minds...it sounds weird but it works in the narrative) who are all at a sinister family manor the day that Evelyn Hardcastle dies. He must solve the mystery of why she's dying. More is going on than meets the eye, and I didn't see the end coming.

How Long 'Til Black Future Month by N.K. Jemisin - this collection of short stories is mostly sci-fi and fantasy, written by a black woman. They're so interesting and I thought Conor would really like them, especially since he liked Malorie Blackman and was reading Guardian Angels and Other Monsters.
Mystery series by Louise Penny and Deborah Crombie - I've been enjoying reading both of these series. Error/correction: Louise Penny has 16 books in her Inspector Armande Gamache series and Deborah Crombie has 19 in the Duncan Kincaid/Gemma James series. I got these numbers backwards when talking about these series on the episode 😁
The Man Who Was Thursday by G.K. Chesterton - Something about the feel of The Stolen Dagger made me think about this book. Chesterton has more of a philosophical bent, but there's still the aspect of infiltrating secret societies and standing around in trenchcoats....anyway I thought he might like it.
The Chronicles of Prydain by Lloyd Alexander - if you like Chronicles of Narnia and The Lord of the Rings, you'll likely enjoy this series. There's a young man, a princess, fantastic creatures, and adventures to be had. (Very good on audio, too! My husband and I still quote lines of the audio narration back and forth to each other...they've become inside jokes.)

Thanks for joining me this week to talk to Conor. Be sure to find and follow him on social media, listen to his podcast, and grab a copy of his book
The Longest Night
!
2020 is almost over and I couldn't be happier. Can you believe that advent starts on Sunday November 29th?! Next week we get to talk to Rhonda Carter about her
book of Advent readings.
Until then, with lots of literary love from my library to yours!
~Laura