Episode 24: AJ Vanderhorst - Author of The Mostly Invisible Boy
On this week's dose of book recommendations, library love, and literary enthusiasm, our guest is AJ Vanderhorst. He's the author of The Mostly Invisible Boy, which is the first book in the Casey Grimes series. We met through mutual friends (I did acting classes in high school with some of his siblings) and a Facebook group connected with The Rabbit Room. I got to read his book right when it first came out in April. It's a great middle grade fantasy adventure, and I cannot stop recommending it. Today we swap book recommendations and talk about AJ's life as both a reader and a writer. So, let's dive right in.
Be sure to check out his website, buy his book, and follow him on social media. I'll make sure you have all the links you need in the show notes and on the blog. Stay tuned for future publications, as well! Book #2 of the Casey Grimes series is scheduled to come out in mid-November.
The blog post we referenced during the podcast: "In Defense of Non-Absentee Parents in Children's Literature."
I use affiliate links on the blog for both Amazon and Bookshop.org. I may be compensated if you make purchases through my links. Thanks for your support!
Author AJ Vanderhorst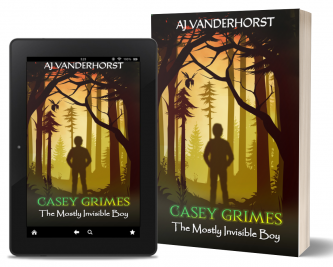 We talked about how writing and reading started for AJ. He grew up in a family where his parents taught English and he started reading and writing from a young age. He continued to write in high school (although he said "thankfully none of that writing was preserved") and pursued Journalism in college.
AJ referred to inspiration for him as being like a visual wrapped around a concept. He is the father of several children, and his kids helped him come up with the idea that eventually became Casey Grimes' story. When it came to the a visual of a forest society, it was his kids who said, "Dad! It would be super cool if all the houses in our neighborhood had secret tree fortresses that are all connected above the ground, and you could walk from house to house. Then you could have parties and secret meetings and stuff." If you have a bunch of kids and they are rambunctious and opinionated, you get a lot of good ideas.
AJ prefers to have a chunk of time to write, preferably 3 or 4 hours at a time so he can make significant progress on chapters, "without looking back." He especially enjoys writing on his porch if the weather is nice.
"I'm kind of compulsive about reading," said AJ. "When I get into it, I really get into it and will finish a book very quickly." Thanks in part to the pandemic, he's already surpassed his reading goal of 100 by about 20 books, and it's only September!
Some of AJ's early book memories include his mom reading out loud to him and his 7 siblings, and books like Beatrix Potter and Berenstain Bears.
These days AJ alternates between reading writing craft books, detective/crime fiction, and middle grade fantasy books (for research). He just picked up Gregor the Overlander by Suzanne Collins and is also reading the Complete Stories of Flannery O'Connor.
Mystery authors that AJ enjoys reading:
Anthony Horowitz
James Lee Burk
Elmore Leonard
Dennis Lehane
Louise Penny
Books AJ recommended to Laura:
The Door Before and Dandelion Fire by N. D. Wilson - an influence for AJ. He really likes the first trilogy (100 Cupboards) that are very colorful, fun, imaginative and fantastic.
Jonathan Stroud's Lockwood & Co. series - an alternative history of England, spooky and a bit scary. They're investigating mysteries and there are some ghosts! But AJ read them with his older kids.
Tumble and Blue by Cassie Beasley and other books by her - real world infused with fantasy that doesn't feel like the author is "cheating."
Gary D Schmitz's books, especially Okay for Now, but also discussed The Wednesday Wars and Lizzie Bright and the Buckminister Boy
Ghost by Jason Reynolds - a book about a track team that surprised AJ. I read Look Both Ways by Reynolds and enjoy it!
Rosemary Sutcliff, especially Eagle of the Ninth - ancient historical fiction. One of the influences of Megan Whalen Turner
Book

s Laura recommended to AJ:




If I Run

series by Terri Blackstock - compelling crime/detective fiction from a Christian perspective. A young woman fleeing corrupt police who are pursuing her for a crime she didn't commit. She's also working through questions of her own faith.

The Vanderbeekers - He and his kids have already read this and love the Vanderbeekers series.

The Boy, The Mole, The Fox and The Horse - I love this illustrated book, it kind of reminds me of Winnie the Pooh. The way the characters interact is just lovely. Don't miss the author's instagram @charliemakesy.

The Queen's Thief Series by Megan Whalen Turner - such a good series!

Reforesting Faith: What Trees Teach Us about the Nature of God and His Love for Us - Casey Grimes has a lot of trees in it, so I thought AJ might find this book about the theology of trees in the Bible to be interesting.

Harry's Trees - a novel where lots of seemingly magical things happen involving trees.

The Ten Thousand Doors of January by Alix Harrow - one of my favorite YA historical fiction/fantasy reads recently.

Lalani of the Distant Sea by Erin Entrada Kelly - middle grade fantasy featuring an islander girl trying to accomplish what no one else could

Donita K. Paul's Dragon Keeper Chronicles - First book is DragonSpell - one of my favorite dragon series!

Dealing with Dragons by Patricia Wrede - middle grade dragon fiction. I haven't read it yet, but Jewel recommended it to me on the podcast. AJ is writing a middle grade book involving dragons, so this might apply to his research.



If you have any book suggestions for AJ or you want to drop me a line, I would love to hear from you. Comment below, on Instagram, or send me an email!